Summary
Revolutionary Sex was first launched in 2006 and has since inspired many of the popular sex eBooks today.  Written by Alex Allman, the book is a wonderful resource on how to give and receive amazing sex.  By focusing on sexual skills grounded in both reality and practicality, the book aspires to show you what really makes a great lover.  It's kind of knowledge that's often missing in other sex guides.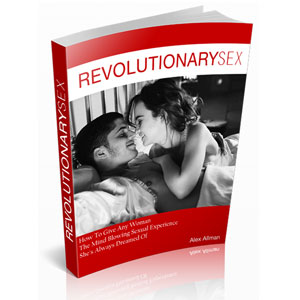 Total Score

87 / 100

Overall Presentation

8 / 10

Effectiveness

17 / 20

Practicability

17 / 20

Innovativeness

9 / 20

Value For Money

18 / 20

Other Score

9 / 10
Product Details

Expert: Alex Allmen
Level: Beginner, Intermediate
Format: E-Book (Download), Audio (Download)
Price: $47
Where To Buy: revolutionarysex.com
Guarantee: ​60-day money back
Who This Product Is For
If your relationship is getting stale, then this book will provide great insights into how to spice up your lovemaking.  It's obvious that Alex has a lot of experience with women. Reading the book will give you interesting new perspectives on sex while focusing on the bigger picture.
If you have been disappointed with other sex guides that focus too much on minor details of techniques, and you want a more practical approach that you can apply in your own relationship, then Revolutionary Sex is for you.
What's Included
THE THREE PARTS OF REVOLUTIONARY SEX (EBOOK)
BONUS (AUDIOBOOK)
How To Initiate Sex Without Ever Being Rejected
Revolutionary Sex Review
Revolutionary Sex review gives you one of those books that should be required reading for all men. If I had come across this book when I first starting dating, it would have made a huge difference in my relationships (it would have also saved me from some embarrassing experiences!). For the beginner, it's easily one of the best guides out there. It dispels many of the common sex myths while emphasizing the female perspective. In a nutshell, this book will make you a better lover.
The first section – how long you should last in bed
of the book titled "You" covers topics such as how long you should last in bed, what women expect from you, and why most guys get it wrong.  You'll learn if the size of your penis really matters and how the mindset is directly linked to your sexual performance. The author provides practical solutions to a number of common problems such as performance anxiety and other psychological issues related to nervousness and feelings of not being sexually attractive. Also included are the mechanical issues (which are usually caused by an underlying psychological issue) such as impotency and premature ejaculation.
This first section shatters many of the most common misconceptions. Somewhere along the line, we've been misled about what women want in the bedroom. Porn has definitely distorted our views of sex, but so has the mainstream media. If you don't have a lot of experience in this area of your dating life, then you'll appreciate the honesty of the author.
The next section – practical ways of stimulating a women
"Her," deals with the sex from the female perspective. You'll learn why she's unable to orgasm with you, and practical ways to help her overcome these problems through penetration, oral stimulation, and fingering.  One of the key components is building trust. But in addition to trust, you also need to build sexual tension. Only once these are in place can a woman truly experience the most intensive orgasm. You'll learn about the squirting orgasm too–yes, it's real, and anybody claiming it's not, has obviously never experienced it for himself. Other topics include how to "stack" orgasms and how to "bounce back" into climax after she's settled down. There's also great insights into anal sex and how to time her orgasm.
Part 3 – intimacy and communication skills
Puts it all together. In this "Together" section, topics include intimacy, communication styles, and how to bring up the topic of sexual fantasies. This section is covered in less detail but is still an equally important aspect of great sex.
Conclusion
Revolutionary Sex will help you understand the big picture of what really makes a woman hot and horny. If you want to learn how to give women a mind-blowing sexual experience, then Alex is your guy. Not only will you feel more ground in your sexuality, but you'll be more connected emotionally to your partner. You'll also feel more dominant in the relationship. Her desires for you will become stronger–she might even become addicted to the "new you".
There are better specific technique-based "how to" products (see our review for the Incredible Sex Video Series), but for a more general approach to becoming a more dominant and masterful lover, Revolutionary Sex is a true classic.