Summary
Cocky Comedy And Other Conversational Skills
is a conversational video course that teaches you how to use humor to make women feel instantly attracted to you. This
David DeAngelo
seminar was released in 2005 and has become one of his trademark skills.  It's available inside the member's area as a streaming video product or shipped to you as a CD audio product. This course will be especially helpful for the beginner student who wants to learn tested "openers" and proven word-for-word scripts that make women laugh.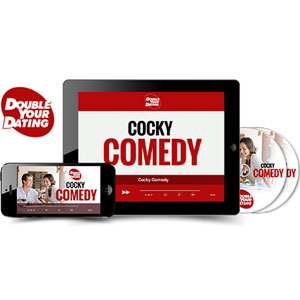 Total Score

83 / 100

Overall Presentation

10 / 10

Effectiveness

18 / 20

Practicability

15 / 20

Innovativeness

15 / 20

Value For Money

17 / 20

Other Score

8 / 10
Who This Product Is For
Most guys will never learn how to use comedy and banter with women.  But guess what?  It's not your fault.  Nobody ever teaches you this kind of stuff. Well, Cocky Comedy changes all of that.  Now any guy with some basic social skills can learn the secrets of the pickup artist. The tips and techniques offered in this 6+ hour training course will give you the confidence to approach any woman and maintain a fun and natural conversation.  If you suspect that women think of you as a boring guy, then this product is for you. Not only will it shift the way you think about comedy and attraction, but you'll discover simple and practical ways to implement the comedy secrets in your everyday life.
More reviews of dating products from David DeAngelo.
What's Included
Cocky Comedy (6+ hours of video)
Audio CD (optional)
Accompanying Workbook (teaching slides & powerful support material)
Detailed Track Listing (quick access to find & re-watch favorite chapters)
Cocky Comedy Review
Women respond positively to guys who know how to make them laugh. A cocky but funny personality says all the right things to a woman you've just met. It shows her that you're a fun guy to be around. It also shows her that you don't take yourself too seriously. Using humor to spark that initial attraction can be an extremely powerful tool in the art of seduction.
Many of David DeAngelo's products are geared more towards teaching your inner game (read my reviews of Deep Inner Game, On Being A Man, and Man Transformation). Whereas these programs require significant time and effort on your part, Cocky Comedy is an easier way to get women to notice you (Body Language is another great product for this). The Cocky Comedy program is more outer-game focused and includes what to say when to say it, and how to say it. Think of it as a crash course in comedy specifically tailored to meeting and attracting women.
The program comprises over 6 hours of pre-recorded live video featuring David DeAngelo and numerous guest speakers.  As with all the David DeAngelo products, the production value is top-notch. You'll learn the dos and donts of conversational humor including the "attraction killers" that you must avoid.  You'll learn about different strategies on how to initiate a conversation that creates a more personal connection with a woman you've just met. You'll also learn about the "master key" to attracting almost any woman you communicate with.
One of the takeaways for me was that you don't want to try too hard.  A lot of guys who study pick up tend to overdo what they learn. But if you try too hard at being funny, you end up coming off as a clown. DeAngelo talks about this as well as other common mistakes men make when trying to woo women with their jokes.
The first segment of the program is presented by DeAngelo. Here he goes into the psychology of comedy and provides useful strategies on how to implement various techniques. He teaches with a more natural style than other pick up artists. It's not extreme or over-the-top but rather grounded in reality. In other words, anybody can implement this stuff.
As the program progresses, you're introduced to other experts in the seduction community, such as Craig, 26, Rich, and Will. Each speaker provides his own examples of how to converse with women in more humorous ways. Not every speaker will click with you (26's examples are more outrageous than others), but it's always a good idea to get various perspectives. Remember, you don't need to become a comedian, you just need several solid openers and routines to get you more comfortable with the idea of comedy.
With time, you'll develop your own style. As you practice using the examples in the program, you'll become more of a "natural" without having to rely so much on other people's word-for-word scripts. You don't have to pretend to be somebody you're not, so this product addresses how to develop your own routines that complement your own personality. The insights from this program will also help you become more in the moment while communicating with the opposite sex, which in itself can be very attractive.
Conclusion
Cocky Comedy teaches you the secrets of comedy and how to apply them to the areas of women and dating. Some examples are riskier than others–these examples will work better bars and clubs.  But for the average guy who wants more women to take notice of him, this product will be a great introduction to how to effectively use humor and other conversation skills to meet, attract, and date more women.