Summary
How To Become An Alpha Male was one of the very first ebooks I read when I first started learning dating skills. I can remember reading it for the first time while on a visa run during my travels in Thailand. Although it's been years since I first read this book, I can honestly say that the book was one of my original inspirations for becoming a better man. John Alexander is relatively unknown in the pickup community, but he has great insights about what it truly means to be an alpha male. His methods and mindsets are both practical and effective for attracting women without having to pretend to be somebody you're not.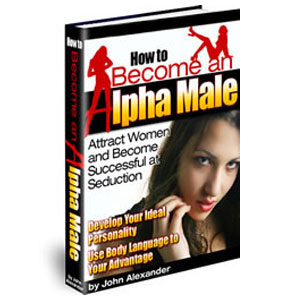 Total Score

89 / 100

Overall Presentation

9 / 10

Effectiveness

18 / 20

Practicability

17 / 20

Innovativeness

15 / 20

Value For Money

20 / 20

Other Score

10 / 10
Product Details

Expert: John Alexander
Level: Beginner
Format: E-Book
Price: $39.97
Where To Buy: alphamalesystem.com
Guarantee: ​60-day money back
Who This Product Is For
If you want a no-nonsense approach to becoming a more authentic man without having to invest a lot of money, then this e-book is the perfect entry-level product. You'll learn how to act like an alpha male and how to think like one. Beginners will get the most out of this book, but higher level students will learn something new as well. As with any new skill, to get the most out of this book, you'll need to actually apply the techniques, which is usually first done by emulating the alpha male, both internally (inner game) and externally (outer game). John Alexander can show you how.
WHAT'S INCLUDED
How To Become An Alpha Male (E-Book)
5 Exclusive Reports (Bonus PDFs)
12 Private Email Consultations
HOW TO BECOME AN ALPHA MALE (TABLE OF CONTENTS)
FOREWORD
INTRODUCTION
CHAPTER 1: The Truth About Women's Love of Sex…It May Surprise You
CHAPTER 2: The Number One Dating Mistake Men Make and How to Avoid It, Once and for All
CHAPTER 3: The Three Kinds of Men-Alpha Males, Beta Male "Nice Guys," and Jerks
CHAPTER 4: 24 Nonverbal Cues That Scream "I'm Non-Dominant." Get Rid of Them and Score!
CHAPTER 5: Six Beta Male Behaviors to Avoid
CHAPTER 6: How to Be an Alpha Male…When You're Taking Orders From Someone Else
CHAPTER 7: Project Your Ideal Self By Controlling the Way You are Seen
CHAPTER 8: The Most Important Power Attitude You Can Have
CHAPTER 9: Creating Your Own Strong Reality
CHAPTER 10: The Simple Secret to Being Dominant
CHAPTER 11: How to Look Better Than You Ever Thought Possible
CHAPTER 12: Important Techniques to Take Control of Your Mindset and Build Your Ideal Personality
CHAPTER 13: Severing Your Attachment to Outcomes
CHAPTER 14: Getting Over Your Insecurities
CHAPTER 15: Handling Your Fears of Rejection
CHAPTER 16: Why Improve Yourself?
CHAPTER 17: Using the Body Language of an Alpha Male
CHAPTER 18: Seven Steps to Create the Conditions That Increase Your Lays-Now!
CHAPTER 19: The Morning After
CHAPTER 20: Being Dominant in a Group
CHAPTER 21: Some General Relationship Advice
CHAPTER 22: Conclusion
Editor Review
It's almost impossible to read this book without having a paradigm shift. Alexander has written a visionary book that will help almost every guy who reads it. Unlike other pickup artists, he's not in the "game" just for picking up women, so there isn't a whole lot of hype around this book. Nevertheless, the book deserves more credit than it gets.
So how can this book improve your dating life? To answer that question, I should first talk about his teaching style. Alexander's approach is to first improve your inner game so that you're automatically attracting women into your life. So I'd say it's an inner game product first, but there's a significant portion of the book also devoted to outer game. It's this equal mix of strategies combined with his motivating teaching style that makes the ideas "stick." It's one of those books that will literally hardwire your mindset to a more alpha-way of thinking.
Obviously, you can't completely transform yourself overnight. That said, you will feel different immediately after reading it, so the changes can happen very quickly.
Throughout the book, Alexander tells his story about how he became an alpha male. He shares his experiences along the way and doesn't shy away from the mistakes he made in his earlier days of pickup. One of these mistakes was only talking to the hottest girls instead of talking to everybody, even the unattractive women. This rang true to me since I used to make that same mistake of only talking to hot women thinking that I was "too good" for conversation with average-looking girls (it's a good practice to converse with all types of people).
The fashion and grooming section complements the inner game techniques perfectly. There is overlap here with other alpha male products, but for a low-cost product, it's a great value for your buck. All the main skills you need are covered including how to approach women, to how to communicate more persuasively (with friends or potential girlfriends), to how to become a better lover.
Conclusion
I don't like to brag, but over the years, I've been fortunate enough to have dated and slept with some truly amazing women. These days I'm not really into the whole "pickup" scene anymore, but I do have to thank John Alexander for putting together an e-book that really helped me in the beginning stages. If you read this book (I recommend you read it at least twice) and pay attention to what the author has to teach you, then you'll make improvements to your game.