Summary
I believe that working on your inner game issues is the most important element of dating success. Why? Because by working through your own issues, you don't have to rely so much on outer game "tricks." Most of the seduction techniques taught in the pick up community aren't congruent to the typical guy's true personality anyway. It's far more powerful to be the authentic you. Up for review is
Deep Inner Game
created by
David DeAngelo
with the help of Dr. Paul.  At the time of its release, it was one of the first programs to focus entirely on the mindset of attracting women. This program addresses inner game issues such as low self-esteem, insecurity, fear, and anxiety, and provides practical ways to overcome them for good.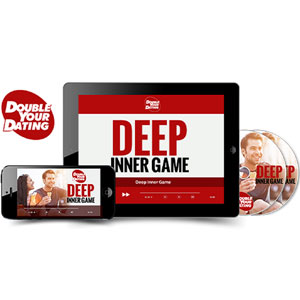 Total Score

87 / 100

Overall Presentation

10 / 10

Effectiveness

18 / 20

Practicability

14 / 20

Innovativeness

18 / 20

Value For Money

17 / 20

Other Score

10 / 10
Product Details

Expert: David DeAngelo
Level: Beginner, Intermediate, Advanced
Format: Online Video, DVD
Price: $299.85 or 5 monthly payments of $67.00 (extra $3.99 for DVDs)
Where To Buy: doubleyourdating.com/catalog-deepinnergame/
Guarantee: ​30-day return policy (you will not be charged until 30 days after purchase)
Who This Product Is For
If you have deep-rooted issues related to low confidence or poor self-image, then these problems aren't going to fix themselves. You have to do it. By eliminating your fears, anxieties, and insecurities, you won't need to rely on pickup lines or weird hypnosis tricks to make women want you.
There are people who feel that they have no control over their destiny. They wish women were different, and they wish women responded to them differently. But before you can make any lasting change, you first have to accept that you have a problem.
Deep Inner Game delves into the unseen stumbling blocks that frustrate men and prevent them from ever achieving lasting dating success. It's one of DeAngelo's more advanced programs, but it's also suited for beginners wanting to fast-track their dating success. If your life is controlled by your fears or anxieties, then keep reading the Deep Inner Game review.
David DeAngelo dating advice product reviews.
What's Included
15+ hours of success-proven tools, tips, and techniques
Optional DVDs (in addition to online access)
Accompanying workbook (teaching slides & helpful material)
Detailed track listing (for quick access to find & re-watch favorite chapters)
Deep Inner Game Review
Deep Inner Game is one of DeAngelo's higher-end products. This course was recorded at a live seminar in 2005 presented by David DeAngelo and Dr. Paul, who has also appeared on numerous other of his advanced courses. The content comprises over 15+ hours of video presentation. The aim of the course is to address all the core problems that hold men back in the areas of dating, women, and sex. The videos can be viewed online in the members-only section or delivered to you by mail as a DVD-set.
David DeAngelo is more of an inner game guy. Although he has created outer game products (read our review of Approaching Women), he's probably most famous for his Cocky Comedy style of approach. But I've found his inner game products to be especially helpful in my own self-development.
Deep Inner Game is a great starting point in his inner game product line
Other good courses include 77 Laws Of Success With Women And Dating (introduction to his most important inner game mindsets) and Become Mr. Right (how to grow and sustain a serious long-term relationship with the perfect 10). All of these products can help you tremendously depending on which area of improvement you need most. But if your problems are specifically related to fear or anxiety, then you'll relate most to the techniques and strategies taught in Deep Inner Game.
This is as much of a Dr. Paul product as it is a David DeAngelo product. Not everybody seems to like Dr. Paul's science-based approach to teaching attraction and dating skills, but I thought he was a great addition this time around. Having said that, if you're looking for a program that gives you specific word-for-word examples of what to say to women, then you'll be disappointed with this program. This isn't a "quick fix" product. It's going to take serious work on your end to make lasting changes. But Deep Inner Game will give you all the tools you need.
In this program, you'll learn how to improve your self-esteem and how to effectively block other people's attempts at bringing you down.  You'll learn how to transform stress into positive energy. You'll learn how to become more internally-validated and how to stop caring about what other people think of you.  You'll learn how to evict your "inner wuss" for good. You'll also learn how to become more natural in conversation without having to memorize scripts or routines.
Conclusion
Deep Inner Game is a complete education of human psychology and how it relates to the areas of women, dating, and attraction. If you want to transform yourself from the inside out, and if you're willing to put in the time and energy towards mastering your psychology, then you can be confident that this program will benefit you greatly, not only with women and dating but in all aspects of life.