Summary
How To Talk To Women by
Carlos Xuma
is one of his most important launches.  The number one reason why most guys fail with women is simply because they lack social skills.  Women are far more in-tuned to social dynamics than men.  And unless you're able to understand and lead the conversation, you will never get the results you want with women and dating.  Either you end up being ignored, or you end stuck in the friend zone.  Either way, it's not good.  This video program gives you the fundamental skills to avoiding these common problems.  By becoming a natural conversationalist--the kind of guy who can spark attraction without having to worry about what to say next--you will be more confident and attractive.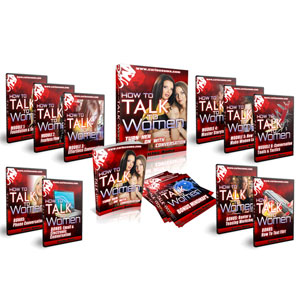 Total Score

82 / 100

Overall Presentation

8 / 10

Effectiveness

18 / 20

Practicability

17 / 20

Innovativeness

14 / 20

Value For Money

18 / 20

Other Score

7 / 10
Who This Product Is For
This dating advice product is best suited for the beginner who suffers from social anxiety, or just a general lack of social skills. We all feel shy sometimes, and that's completely normal. The problem arises when it takes control of your life. But this program isn't just for the shy guy. The techniques and strategies taught here will give you options with women who you used to think were "out of your league." Make no mistake about it, conversation is a skill. And it can be learned even if you consider yourself socially awkward.  In fact, the reason you're uncomfortable talking to women is because you're missing this skill.
Below you can find more reviews of Carlos Xuma products.
What's Included
How To Talk To Women (9 video modules)
How To Talk To Women Reference Manual (135-page ebook)
Banter & Teasing Workshop (bonus MP3 audio)
Movie "Pickup" Analysis (bonus video)
Mind Maps: Master Attraction Blueprints (PDF)
How To Talk To Women Review
In my college days, I was shy around other girls. If I was at a party with some alcohol in my system, then occasionally I could must the courage and shoot the breeze with other gals. But the idea of approaching a stranger and starting a conversation—forget about it!
How To Talk To Women is the layman's guide on how to converse with women so that she sees you as a potential lover. The format is an instant-download video presented by Carlos Xuma. Instead of providing a bunch of theory and pickup artistry "tricks", this program is more grounded in practicality.  It teaches you how to talk to women without giving off any type of player vibe.
How To Talk To Women consists of 9 video modules with each video running approximately an hour. The first video is "Foundations & Secret Keys".  This primer video will show you what makes an attractive conversationalist. These "secret keys" are not your usual advice that you'd get from your female friends.  Women judge you by how confident you appear when you talk to them. So before delving into the actual conversation examples, it's important you understand what's REALLY going on so that you have a clear goal in mind.
Videos 2 and 3 waste no time and get right into it.  These videos, namely "Fearless Flow" and "Effortless Conversation" provide the framework of male-female interaction. It's amazing how long I'd gone through my life without ever really understanding how the male-female dynamics actually work. If I had studied a program like this in College, I'm sure I'd have better memories of those days.
Since this is a dating advice program, it would be incomplete without storytelling and humor. These are the topics of the next two videos. I didn't agree with all the examples of humor. And there are probably better coaches to learn this skill from. But there were some interesting insights about storytelling and why the pickup community generally gets this wrong.
The other videos teach the skills you'll need for texting and phoning a girl or emailing a girl if you're dating online. As an introduction to these topics, the advice was sound.  But if text and phone or online dating are areas you want to improve, then there are more in-depth and detail-oriented products out there.
In addition to the main product, Carlos has included some other valuable bonuses. I thought the "Video Breakdown" bonus video was interesting where he takes you through his favorite movie scene detailing how to initiate the perfect approach. There's also a 135-page reference manual ebook with summaries and notes of each topic of the program. There's an audio version of the program too so that you can upload it to your mobile phone and listen to it whenever.
Conclusion
How To Talk To Women is one of the better conversation courses for dating, attraction, and seduction. If you're tired of not knowing how to talk to women, and women respecting you less because of it, then you will benefit from this program.