Summary
Up for review is the 77 Laws Of Success With Women & Dating. This online video course is a rapid-fire crash course covering the key essential skills of what it takes to become successful with women and dating. It's an easy course to study if you have a smartphone--just load up the video or audio files and listen to them whenever you have a few minutes. It works both as a beginner course and a refresher course for more advanced students as a reminder of the most important qualities you need to develop in order to become more naturally attractive to women.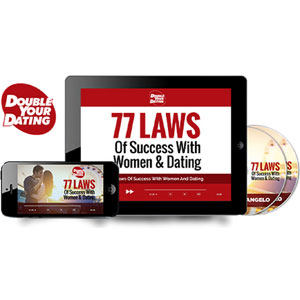 Total Score

91 / 100

Overall Presentation

10 / 10

Effectiveness

20 / 20

Practicability

17 / 20

Innovativeness

15 / 20

Value For Money

19 / 20

Other Score

10 / 10
Product Details

Expert: David DeAngelo
Level: Beginner, Intermediate
Format: Online Video, DVD
Price: $89.85 or 5 monthly payments of $17.97 (extra $3.99 for DVD)
Where To Buy: doubleyourdating.com/catalog-77laws/
Guarantee: ​30-day return policy (you will not be charged until 30 days after purchase)
Who This Product Is For
David DeAngelo's 77 Laws product is for any guy who wants to become a better man. Yes, you will learn how to meet more women and get more dates. But the product goes deeper than that.  The skills and mindset you'll learn from this program will motivate you to improve yourself in other areas of life.  Even if you already have a successful dating life, you'll find many gems of wisdom contained in this product, especially for developing confidence and a rock-solid inner game.
77 Laws Of Success With Women & Dating Review
The 77 Laws was originally recorded at one of David DeAngelo's live seminars and is available in both on online streaming and DVD formats. Over the last several years, I've probably listened to this product a dozen times. Each time I listen to it, I learn something new. At the very least, I'm reminded of the things that I used to do but for some reason stopped doing it.
David goes through each of the 77 laws one at a time and spends a few minutes talking about each one. He talks about why each law is important and how they can help you achieve massive results.
The first law of success is to accept everything. A lot of guys who have difficulty attracting women have a hard time accepting the way things are. They wish women and their situation was different. But before you can make any changes to your life, you have to take responsibility and accept things the way they are.
The laws are a combination of both inner and outer game techniques. As the presentation continues, the laws become more specific. For example, Law #48 states that you should "let her problems be her problems."  I've struggled with this one in the past, and sometimes I still fall into my old habits. By trying to help or change your girlfriend, you actually cause more damage to the relationship–even if your intentions are good. (On a side note, I do believe it's possible to change people, but if that's your primary goal, then you'll be banging your head against the wall with frustration.)
Another law is to "keep doing what works."  This one also rings true in my own experiences. Early on when I first started learning pickup, I got good at my developing my own technique for approaching women which I fine-tuned over time. But as time went on, I got bored with it and wanted to try something new–even though I was already getting massive success with the technique!
Many of the laws are applicable to dating as well as more general social situations such as business and networking. Throughout the program, David emphasizes that you should primarily focus on your inner game and not just rely on "tricks." In other words, your aim is to improve your long-term success so that you're living a lifestyle where you're automatically meeting beautiful and interesting people.
Conclusion
The 77 Laws sets a new standard for self-help for men. It's impossible to listen to it and not get something valuable from it. It gives you just enough detail to understand the main ideas of dating success without spending too much time on theory.  Highly recommended.