Summary
Premature ejaculation is an embarrassing topic that often prevents guys from ever seeking help. Aside from the humiliation, it can also cause emotional stress and relationship problems. The problem is more common than you might think. The good news is that it's curable. Extreme Stamina is a permanent solution to fix premature ejaculation. This online video product details the steps you need to take to actually fix your performance problems, whether they be physical or psychological. Instead of pills or "quick fixes" that don't work, Jason Julius, the creator of the program, emphasizes long-term solutions that are proven to fix this embarrassing problem for good. Click below to keep reading the full Extreme Stamina.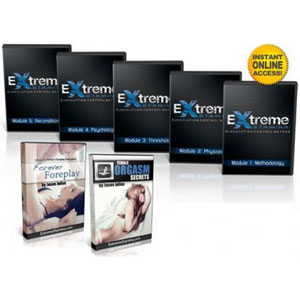 Total Score

87 / 100

Overall Presentation

8 / 10

Effectiveness

18 / 20

Practicability

16 / 20

Innovativeness

16 / 20

Value For Money

20 / 20

Other Score

9 / 10
Product Details

Expert: Jason Julius
Level: Intermediate
Format: Online Video Course
Price: $47
Where To Buy: extremestamina.com
Guarantee: ​60-day money back
Who This Product Is For
The exercises taught to fix premature ejaculation in Extreme Stamina are not difficult to apply. The important thing is whether or not they actually work. The results you get from this program will depend on how much time you dedicate yourself to the exercises. The more time you put in, the quicker the results. If you're okay with being "average" in bed, and you don't mind ejaculating after two minutes, then you don't need this product. On the other hand, if you've been let down by other "magic pill" promises that have wasted your money, or if you're ashamed of your inability to last more than a minute in bed. Then you need to get this area of your life fixed once and for all.
What's Included
Extreme stamina modules
#1 – Methodology
#2 – Physiology
#3 – Psychology
#4 – Threshold
#5 – Reconditioning
Bonus content
Female Orgasm Secrets
Forever Foreplay
Extreme Stamina Review
Premature Ejaculation affects millions of men around the world, which in turn leaves millions of women sexually unsatisfied. Nobody wants to admit that they're not good in bed.  And the woman won't admit it to you either (I actually believe it's one of the main reasons why guys get dumped). Not only will longer sex make her more desirable, but you and your partner will be happier in the relationship. For one night stands, sexual stamina is also important, especially if you want to keep your options open with different women.
The crux of the Extreme Stamina system is what the author calls the 'Ejaculation Control Triad'. It combines the three critically important yet separate areas of 'Physiology', 'Psychology', and 'Threshold Mastery'. Improving each area in itself will give you noticeable improvements, but it's the combination of all three that will give you the maximum result that you and the woman (or women) in your life desire.
Below is a quick breakdown of the three elements of the Ejaculation Control Triad:
Physiology
The physiology section covers physical exercises that you can start doing immediately. You might have heard of one of them known as kegel exercises which involve strengthening the PC muscles (the muscles you use when you clench your anus or hold in your pee). The simple exercise plan shows you how to do the exercises and the number of sets and reps required to progress to the next level. There's no other way of strengthening these muscles other than actually doing the exercises. It's good for your core muscles anyway, so there's no reason why any of us can't find a few minutes each day to do them. With your new PC-muscle strength, you'll have better control and will be able to choose exactly when you want to ejaculate. Jason also stresses the importance of regular cardiovascular exercise. By developing your cardiovascular system, your body will become better equipped to perform sexually for longer periods of time. This in turn will also boost your testosterone and increase your sex drive.
Psychology
The second area of the Ejaculation Control Triad is your psychological state. We can all remember our first sexual experience. When a teenager has sex for the first time, he's so excited about the idea that he will ejaculate almost immediately after penetration. Jason explains how your psychology affects your performance and describes what he calls 'Calm Arousal'. The psychological aspect of the course is more challenging to implement, but it's also the most common source of the problem. This course provides several highly effective strategies for controlling your inner psychology while you're being stimulated by a woman.
Threshold mastery
The third area covered is what he calls 'Threshold Mastery'. It's one of the tricks that male porn stars use to control when they finish. Most men masturbate regularly. There's nothing wrong with this per se, but when most guys do it, they're not practicing to delay their ejaculation (most do the exact opposite and jerk off quickly just to release themselves). With the help of graphs, Jason illustrates the "point of no return" and teaches how to train yourself to extend the length of sexual arousal. This exercise, as well as all the other ones taught in this course, will improve your stamina as soon as you begin practicing them. Not only will this give you an immediate confidence boost in the bedroom, but you'll be experiencing longer and more powerful orgasms.
The production quality
It is top-notch and the modules are presented in a logical order. Throughout the video series, there are graphs and detailed explanations of each exercise. Each exercise can be practiced alone (you don't need a sexual partner to benefit from this product). Also included as free bonuses are two additional videos. One is a 14-minute video presentation explaining the female g-spot. The other video is dedicated entirely to foreplay. An easy way to overcome self-consciousness in bed is by moving your focus onto the woman. So in addition to improving stamina, it's just as important to learn how to give women orgasms in other ways than just penetration. These bonus videos add real value to the main product and complement the stamina techniques. There's also a one-hour MP3 interview offering some additional insights, as well as some PDF downloads summarizing the exercises and main points of the program.
Conclusion
In the area of self-help for men, Extreme Stamina is a masterpiece. Although I didn't cover all of the details of the program, Extreme Stamina is one of the more comprehensive video courses, and definitely the most practical for achieving real results. If you're embarrassed by your lack of sexual stamina, then now is the time to get this area of your life fixed once and for all.