Summary
Become Mr. Right
is considerably different from what most people consider a "dating advice" product. This advanced
David DeAngelo
product is an online video course which could be summed up as the ultimate self-development program for men. At some point in your dating-skills development, you'll find yourself less interesting in "pickup" and more interested in longer-term relationships. At that point, you'll want to invest more of your time and energy into improving and sustaining your relationship with Mrs. Right. This product is for those who are ready to take their relationship skills to a whole new level.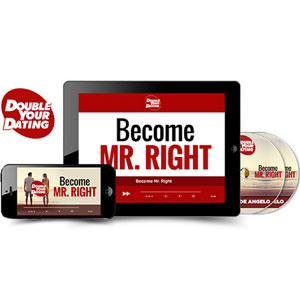 Total Score

84 / 100

Overall Presentation

10 / 10

Effectiveness

18 / 20

Practicability

14 / 20

Innovativeness

17 / 20

Value For Money

18 / 20

Other Score

10 / 10
Who This Product Is For
If you're looking for pickup lines or specific word-for-word examples of what to say to convince a woman into liking you, then you're reading the wrong review. This product won't teach you seduction tricks. But if you've already got the basics down, and you're looking for something more meaningful, then this could be one of your most important investments you can make.  Most of the content is focused on mindset and inner game. It's more about self-actualization–improving yourself as a man, finding your life's passion, and living a happier and more fulfilling life.
What's Included
21+ hours of proven techniques, tools, and tips!
12 DVDs (optional, $3.99 extra)
Free 1-Month Subscription to "Interviews With Dating Gurus" interview series
Become Mr Right Review
First, some background information.  Become Mr. Right along with Man Transformation was originally sold as DVD set called "Mastery."  This Mastery product is no longer available, but instead was broken down into the two separate products mentioned above.
"Mastery" is a good word to describe the teachings of DeAngelo's Become Mr. Right program.  This is an advanced program and is intended for a mature audience.  Maybe your relationship with your girlfriend has evolved in ways you weren't expecting.  Maybe you're not as happy as you thought you'd be.  Whatever area of your life that need improvement, DeAngelo can help you get there.
The video content is a pre-recorded live seminar presented by David DeAngelo and various guest speakers. In total there are over 21 hours of DeAngelo's most successful strategies for relationship success. Some of the topics he teaches are similar to those taught in his business courses, such as his Wake Up Productive time management course. You'll also learn about the importance of your physical and emotional health and how they relate to your personal relationships. So it goes much deeper than just "relationships advice."
You'll get different perspectives on what it means to be Mr. Right. You'll also learn how to can overcome your own mental blocks.  In fact, you'll learn how to clean up all your emotional junk that's preventing you from achieving the intimacy that you crave. Whether it's self-esteem issues, a lack of motivation, or an inability to get on and stay on your life path, change is possible. But it will require courage and motivation.
A lot of the ideas taught in this program border on the philosophical. DeAngelo has always seemed to be more interested in the inner game of success. And in my opinion, programs like this is where he really shines. You'll learn what women really want in a relationship and what they will demand in a man.  You'll learn how women can spot an insincere man and how to keep your composure when she goes through one of her emotional waves.  It also teaches you how to develop rapport and become a master at dealing with conflict in any situation.
Women want a man with passion. This is why it's so important to focus on yourself first. By working through your own personal issues, you'll automatically become more magnetic to women. But change won't happen over night.
It's best to think of this product as a long-term investment. Not every guy will be ready to make the changes that DeAngelo proposes. And I don't recommend this product for the beginner student. The program does assume that you already have some dating skills. So if you're looking for a great overview of David DeAngelo's best teachings without spending a lot of money, then I suggest you have a look at his 77 Laws Of Success With Women And Dating program instead.)
Conclusion
I've studied a lot of attraction and seduction products.  But I have yet to find a relationship product as genuine and beneficial as this one.  David DeAngelo usually delivers high-quality content.  And this product is no exception.  If you're ready to learn real-life relationship skills in a no-nonsense approach, then you'll want to consider Become Mr. Right.