Summary
Man Transformation
by
David DeAngelo
is probably the most comprehensive inner and outer game program ever released in the areas of dating and self-improvement. You get 39+ hours of streaming video content as well as additional bonus products related to health, business, and time management. Since the content does assume you've already studied some basic dating skills, I wouldn't recommend it for the absolute beginner. There's also some overlap with his
Become Mr. Right
program, but there's a ton of new material as well. Note that this course isn't about "chasing girls." Rather, it's about re-programming yourself into becoming a superior man.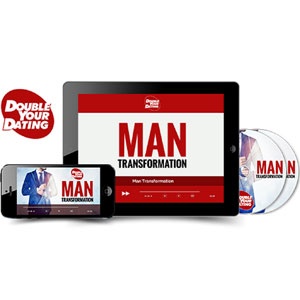 Total Score

96 / 100

Overall Presentation

10 / 10

Effectiveness

20 / 20

Practicability

17 / 20

Innovativeness

19 / 20

Value For Money

20 / 20

Other Score

10 / 10
Who This Product Is For
Man Transformation is best suited for those who want to take control of their life and learn how to attract women. The idea behind this product is to show you how to become the type of man who naturally attracts women without even trying. You'll learn how to better understand women and relationships. But more importantly, you'll learn how to become "the natural". This is done by focusing on your own goals and by working through your own stumbling blocks.
David DeAngelo is one of the smartest guys on the planet. Whether it's building stronger character attributes like confidence or courage, or helping you overcome deep-rooted issues such as low self-esteem or poor social skills, Man Transformation can help you.
More dating advice products by David DeAngelo.
Man transformation
39+ hours of success-proven tools, tips, and techniques
Accompanying workbook (teaching slides & helpful material)
Detailed track listing (for quick access to find & re-watch favorite chapters)
Bonus products
Time Management And Productivity
Business And Financial Success
Ultimate Health And Wellness
Man Transformation Review
Where to begin! With so many valuable insights offered in this high-end product, it's going to be next to impossible to cover all the techniques and strategies included. If I had to sum up the entire product, I'd call it "inner game on steroids". Some of the topics covered won't be easy for everybody to accept. It takes a certain amount of honesty and courage to dig deep and make the required changes to help you get to that next level in your life, whether it be relationships, career, or personal success. It goes deeper than literally every other dating-advice product on the market.
There are many pickup artists that will teach you how to attract and seduce women. There's nothing wrong with that per se. In fact, I can tell you from first-hand experience that many of these pickup techniques work surprisingly well.  But at some point in your life, relying on scripts or routines to get more women just doesn't feel right anymore. Furthermore, these "tricks" tend to work better on girls in bars and clubs.  But what if you're seeking higher-quality women–the kind of woman you'd want to have a long-term relationship with? What if you're seeking more fulfillment in life?
David DeAngelo has gone a different route than almost every other dating "guru". Instead of getting stuck in the "pickup artist" mentality, he has progressed into other areas including business, marketing, love, and even spirituality. He's more evolved than everyone else I've learned from, and it shows in the way he teaches. For putting together both the inner game and outer game of success, he's the best teacher I know of.
What do you get
Man Transformation is a recorded live seminar presented by David DeAngelo and various guest speakers. The course includes 39+ hours of profound educational video covering all facets of dating, relationships, and personal success. In this program, you'll learn the 3 different phases of transformation and how you can fast-track changes in your life. You'll learn how to reverse your fear of rejection and how to deal with other insecurities and anxieties, about the psychology of women and why they cheat on their partners. It also teaches you how to build a stronger social circle and how to distance yourself from negative social influences.
It's very unlikely that you won't experience a deep profound change in the way you think and experience the world after studying this product. But if you are disappointed in the program, it's like because of unrealistic expectations. This isn't a "magic bullet" product. Like most things in life, the more work you put into something, the more you'll get out of it. But if you're dedicated to your self-development and willing to learn how to consciously remove your self-limiting beliefs, then a world of opportunity will open itself to you.  As you practice exhibiting stronger leadership skills, women will respect you more. By becoming a better man, you literally become a chick magnet and will attract more women.
The expert speakers
Each expert speaker of the program provides a different insight. There's David Wygant with his lecture on how to be more social in everyday life. His confidence is bordering on arrogance, but if shyness is a problem for you. then you'll need this kind of energy to help balance your life.
Real great segment is presented by Hypnotica, one of the most respected inner game gurus whom David has personally attributed to his mastering of inner game. He covers his most important techniques on how to build a rock-solid confidence from changing your habits of thought (if you struggle with self-esteem issues, then I strongly recommend you purchase his Collection Of Confidence self-hypnosis program).
Another great contribution to the program is Mehow focusing on how to attract women and seduction games. There are quite a few other expert guests, including Sean and Doc, and a female perspective on the psychology of attraction.
Conclusion
Man Transformation takes all of the most important tools in self-development and puts it together as the most transformative product ever!  At nearly $500, it's unfortunate that most guys won't even consider purchasing it, especially considering how much of an impact it can have on one's life. But if you're serious about your long-term success, then investing in this product will be one of the most important decisions of your life.
Try it out for free for 30 days. And if you're still not 100% sure that it's the right program for you, then simply cancel and you won't be charged a penny. How is that for a guarantee?