Summary
If you're feeling down because your girlfriend recently left you, then the Ex Factor Guide might be just what you're looking for. It first teaches the correct mindset of how to deal with your emotions after a breakup, and then it provides specific action steps you can take to get your girlfriend to come back to you. Brad Browning, the author of the eBook, claims that over 90% of men who apply the techniques will get back together with their ex. I'm not sure where he got this statistic from--or how reliable it is--but his methods, if applied correctly, can be highly effective. In this review, I'll talk about some of the better aspects of the book as well as the aspects that could have been better.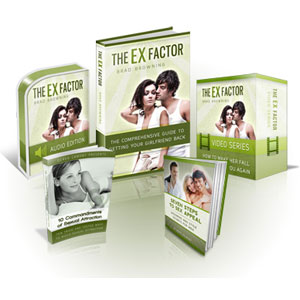 Total Score

73 / 100

Overall Presentation

6 / 10

Effectiveness

17 / 20

Practicability

17 / 20

Innovativeness

14 / 20

Value For Money

13 / 20

Other Score

7 / 10
Product Details

Expert: Brad Browning
Level: Beginner, Intermediate
Format: E-Book, Videos (Online Access, Download)
Price: $47
Where To Buy: exfactorguide.com
Guarantee: 60-day money back
Who This Product Is For
This product is best suited if you've recently been dumped. Many of us have been through this painful experience before. The feelings of loneliness, no longer having the comfort of companionship–these can be extremely tough times to get through. You might even be thinking that you'll never find another girl as good as the one who just left you. But it doesn't have to be like this. Brad Browning's Ex Factor Guide will guide you through the emotional challenges while also providing you with techniques and strategies on how to win her back. You'll also learn how to avoid the most common mistakes that will push her even further away.
What's Included
The Ex Factor Guide (E-Book)
5-hour audio course
3-part video course
10 Commandments of Sexual Attraction (Bonus E-Book)
7 Steps to Sex Appeal (Bonus E-Book)
Editor Review
The beginning parts of the program cover the early phase of the breakup. These sections have more to do with the inner game than any actual outer game techniques. You're given strategies on how to deal with your pain and how to retain your confidence.
It's a natural response to feel depressed after a break up. Because of this intense emotion, your judgment can't always be trusted. Brad suggests a taking a full 30 days without contacting her. I think this is good advice–which unfortunately will be ignored by many guys. So before you even attempt to get back with your girlfriend, it's a good idea to spend considerable time away from her.
There are two benefits to this. The first is that it'll make her experience what it's like to no longer have your attention. She'll miss you more and will begin to question herself whether or not leaving you was the right decision. The second benefit is that it gives you time to think about the situation more objectively. This kind of strategy of intentionally distancing yourself might seem counter-intuitive, but it's an important step in the process.
I thought the early mindset strategies to be the best part. Not that the tactics that follow aren't effective, but as you'll soon discover, some of the techniques are questionable.
The primary tactics taught involve creating jealousy. The idea here is that in order for her to want to come back to you, she needs to feel that she made a mistake by breaking up with you. An easy way to make her feel jealous is by somehow conveying to her that you're having fun and enjoying your life without her. There are numerous techniques provided on how to make her jealous. This jealousy strategy can be highly effective, but it won't work for every situation.
Before you get her back, you first have to be aware of why she left you. The author seems to assume that the only reason a woman breaks up with a man is because she no longer feels attraction for him. But I don't think this one-size-fits-all mentality is correct. There are many reasons women choose to leave their partner. For example, money problems. Even if she's still attracted to you physically, if you can't pay the bills, then she has no choice but to find someone else who can provide her with the comfort and security she needs.
But let's assume that she did leave you because of a lack of attraction. One thing the authors suggests is dating other women. Or, if you're not interested in dating other women, then you can simply lie. I found this technique to be manipulative and insincere. I'm not saying that it won't work–many women will be attracted to you if she thinks you're dating other women. So it can be a very powerful tool if done correctly. But in my opinion, it's better to just date other women so that you don't have to lie.
The main aim of this product is to help you attract your ex back with the ultimate goal of having sex with once again. But I would have liked to see the root causes of the problem addressed in more detail. In addition to the main eBook, there's also an audio and video program which you can download or stream online. There's also two additional mini eBooks including the "10 Commandments of Sexual Attraction" by Derek Lamont and the "7 Steps to Sex Appeal" by Mark Belmont. These eBooks complement some of Brad's techniques and fill in some of the missing aspects of the main product.
Conclusion
You might not agree with all the techniques taught in the Ex Factor Guide, but if you strongly feel that she's worth it, then this could be one of the most important investments you can make for yourself. At the very least, you'll learn how to be avoid the more common "emotional" mistakes that will destroy any chance you have of ever getting her back. It won't necessarily show you how to address the root problem of why she actually left you, but if you're okay with using jealousy to win her back, then you'll find this guide to be an invaluable resource.