Summary
Unlock Her Legs
is a complete dating advice system that teaches you how to turn a friend into a lover. Most dating coaches recommend against putting all your efforts into getting one girl. What they usually recommend is meeting and dating as many women as possible.  But what if you don't care about meeting other women? What if the girl of your dreams is already your friend or co-worker? Bobby Rio and
Rob Judge
have the answer for you. In this Unlock Her Legs review, I'll talk about the pros and cons of this program, and whether or not you should invest in it.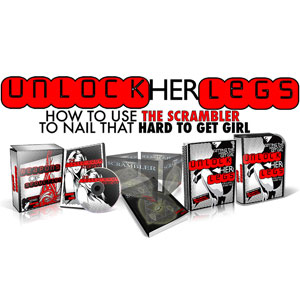 Total Score

88 / 100

Overall Presentation

9 / 10

Effectiveness

15 / 20

Practicability

16 / 20

Innovativeness

29 / 20

Value For Money

19 / 20

Other Score

9 / 10
Product Details

Level: Intermediate
Format: E-Book, Online Video, Audio (Download)
Price: $79
Where To Buy: unlockherlegs.com
Guarantee: 60-day money back
Who This Product Is For
If you've been friend-zoned by a woman that you believe is "the one," then this program is for you. This product will work for both beginners and intermediate students. This program won't teach you how to approach women in bars and clubs, but it will show you how to hook up with a girl already in your social circle.
Follow the links below for more Bobby Rio dating product reviews:
What's Included
PART 1: THE SCRAMBLER
The Scrambler (E-Book)
Weapons of Seduction (online videos)
Audio Roadmap (MP3)
PART 2: THE LUST STEM
The Lust System (E-Book)
10 Video Modules
BONUS ITEMS (PDFs and MP3s)
Her Erogenous Zones
She's Sending You Signals
The Boyfriend Destroyer Sequence
The Magnetic Effect Pattern
Dirty Dozen: 12 Conversations That Will Make Her Fall In Love
Unlock Her Legs Review
Unlock Your Legs is a multimedia course comprising 2 ebooks, 10+ downloadable videos, a one-hour audio interview, and additional PDF and MP3 files as bonus items. The course was created by Bobby Rio and Rob Judge and is based on proven behavioral psychology. The techniques taught in this program–assuming you actually put in the effort to work through the course–will help you come across as a more high-value man.
This isn't the first time Rio and Judge have collaborated. Their Magnetic Messaging program is our highest-rated text and phone game product. So it came as no surprise to discover more insights and innovative thinking inside their Unlock Her Legs program.
When I first got into pickup, I learned about oneitis. Oneitis is a malady suffered by many men. It's the feeling that there is only one particular woman, a "soul mate," that is right for you. The symptoms include desperation and neediness. In order to get around this, and prove that she's not that special, the seduction community usually prescribes having sex with ten other women.
I do believe there's wisdom in meeting and dating as many women as possible. But Unlock Her Legs takes a different route. It teaches you how to focus your energy on only one girl that you really like, and then provides a road map of how to have sex with her for the first time.
I also think there's a risk to this kind of thinking. The underlying message of much of the program is that there is one special girl, and you can get her. So before purchasing this program, I strongly suggest you ask yourself Is she really worth the effort? If you can honestly answer "yes" to this question, then read on.
The complete system is called Unlock Her Legs: How To Use The Scrambler To Nail That Hard To Get Girl
The course composes an equal amount of psychology and tactics. The first part comprises the psychological techniques of The Scrambler ebook, the Weapons of Seduction videos, and an audio road map of success. In this first part of the course, you'll learn how to change the attitude and mindset of the girl so that she begins to see you as a lover, not just a friend.
Every relationship, whether it's a friend, co-worker, or lover, has unwritten rules. If the woman has already made up her mind that you're her friend, then you need to use specific psychological techniques to shift her paradigm. The longer you've known the woman, the harder it will be to change her perception of you.
Right now I'm assuming she's not attracted to you sexually. So to change her thinking, they suggest you make slow and subtle changes.  They provide practical examples of exactly how to do this and offer a fixed sequence that will give you the best chance of success. Many principles of part one might seem counterintuitive at first. But if you're serious about getting the girl, it's important you trust what they say.
The second part of the program
Comprises the Lust System eBook. The ultimate aim of the Lust System is to show you how to bring the girl back to your place and have sex with her. They teach a technique called "sexual snowballing" which lets you instantly determined when the girl is ready to have sex with you. Many of the other escalation techniques, mostly based on conversation strategies, are easy-to-implement and add a lot of value to the second part of the course.  (For a more comprehensive program devoted to conversation and flirting, I suggest Conversation Escalation: Make Small Talk Sexy, also by Bobby Rio.)
Conclusion
Unlock Her Legs, although somewhat different from what other pickup artists are teaching, is an innovative course offering advice that many guys will want to hear. In the category of turning friends in lovers, it's the best program I've come across. If your focus is on attracting that special girl, then you'll definitely want to check it out.