Summary
The Girlfriend Activation System is an excellent program on how to find and keep a high-quality girlfriend.  In the pickup community, "high-quality" usually means the highly attractive 9s and 10s. But when Christian Hudson refers to "high-quality," he's referring more to the emotionally stable woman who's more beautiful on the inside--the kind of woman that you'll want to keep around for a long time. This course offers practical advice on how to get into a long-term stable relationship and how to manage the relationship so that it doesn't fall apart.  It's an honest and in-depth video course with supplementary audio files and a members-only community where you can post your question or problem in the forums.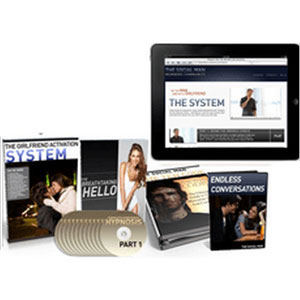 Total Score

93 / 100

Overall Presentation

10 / 10

Effectiveness

19 / 20

Practicability

15 / 20

Innovativeness

20 / 20

Value For Money

20 / 20

Other Score

9 / 10
Product Details

Expert: Christian Hudson, Nick Sparks
Level: Intermediate, Advanced
Format: Video (Online Access, Download), Audio (Download), PDFs (video & audio transcripts)
Price: $67
Where To Buy: girlfriendactivationsystem.com
Guarantee: ​1-year money back
Who This Product Is For
The Girlfriend Activation System review gives you an intermediate-level program made by Christian Hudson. In other words, you should already have some experience with approaching women and getting dates. We've already reviewed a number of products on how to meet girls, how to attract girls, and how to get more dates.
What makes this system different is that it's geared toward the guy looking for something more serious, more long-term. If you're tired of relationships that go nowhere, and you want to learn both the inner game and outer game secrets of attracting higher-quality women, then this course is an invaluable resource.
What's Included
THE GIRLFRIEND ACTIVATION SYSTEM
Part 1: Introduction
Part 2: Masculine Power
Part 3: Masculine Power (Continued)
Part 4: Q&A with Alex
Part 5: Nick Sparks on Sexuality
Part 6: Jason on Being a Challenge
Part 7: Alex on Being Genuine
Part 8: David on Dominance
Part 9: Boyfriend Material
Part 10: Q&A
Part 11: The Obsession Story
Part 12: Introduction to Day 2
Part 13: Impression
Part 14: King Game
Part 15: Nick on Impression
Part 16: What to Say
Part 17: Resetting Impression
Part 18: Inspection
Part 19: The First Date
Part 20: The Social Date
Part 21: The Sex Date
Part 22: Intimacy
Part 23: Conclusion
BONUS CONTENT
The Complete Confidence Hypnosis (MP3 Training Course)
The Breathtaking Hello (Tested Conversation Openers)
Endless Conversations (Sexual Conversation Formula)
Sexual Texting (Mobile Texting Secrets)
The Ten Code (14-day Free Trial)
The Girlfriend Activation System Review
The Girlfriend Activation System (GFAS) is led by Christian Hudson and was recorded during one of his live seminars in New York.  There are 23 video modules with each video guiding you through each step of the process (all of the videos are presented by Christian with the exception of Module 5 "On Sexuality" which is presented by Nick Sparks).  Guest speakers include Alex Allman (author of Revolutionary Sex), Jason Capital, and David Wygant. In addition to the video presentations, there are MP3 audio files, PDF transcriptions, access to an online community, and several other bonus items. Because of the length of the program, you'll need substantial time to absorb all the material.
After an introductory video, the next two modules set the frame for the rest of the course. Christian holds nothing back in telling you the truth about male masculine qualities and why they're so important to convey if you want to attract quality women. You'll learn about the psychology of attraction and how to develop the correct mindset so that women can't help but feel attracted to you. This preparation phase is important and will make it easier to absorb all the techniques and strategies that follow.
Parts 4 to 8 feature the guest speakers. Each expert gives a different perspective and provides valuable insights on various issues that could be preventing you from getting (or keeping) a girlfriend. You'll learn about how to be more dominant, how to be more authentic, how to be more of a challenge, and how to be a better lover. Each of these key areas are important for both in the initial phases of dating and for maintaining a fun and healthy relationship.
From Part 12 onwards, the videos focus more on techniques and specific "how-to". To help you understand the bigger picture, they've included a very useful "timeline" graph that shows you exactly where you are in the process of making her your girlfriend. This is a really cool feature of the program since it shows you exactly which area you need to fix. This visual guide will also eliminate any excuse you might have for not following through with the program.
Because of all the topics covered, there is some overlap with other dating products. But it's taught from a more mature perspective. While the subject of approaching girls and opening a conversation is taught in this system, it's not covered as in-depth as other products. If you need work in one of these areas, check out our product reviews on How To Approach Women and How To Talk To Women.
All in all, it's hard to argue with the quality of this product, both in terms of presentation and in terms of the results it delivers. The videos tend to focus more on improving yourself, not just PUA tricks (the kind of woman you want to meet isn't easily manipulated by these tricks anyway). By the time you've gone through it all, you'll be more confident in your skills and more comfortable with the real you. You'll also know how to recognize the "good girls" and how to avoid being manipulated or cheated on.
What will you learn
To give a better idea of what's included, I've put together a sample list of things you'll learn in the GFAS:
How to avoid the friend zone
How to minimize fear of approaching a girl
How to get a woman to approach you instead
How to make a good first impression
A map of what to do after you've made a good first impression
What to say when you start a conversation
How to demonstrate masculine power with body language
How to let down your guard without losing your masculine strength
How to be challenging to a woman you first meet
The crucial elements of displaying dominant power
How to handle yourself during the first date
The 7 things women want in a boyfriend
How to be intimate a conversation with a woman
How to stay one step ahead of "the game"
Conclusion
If you've studied some of the basic dating skills, and you're at a point in your life where you want to have a more meaningful relationship, then Christian's observations will ring true.  He hits some solid points and breaks many of the common myths found in the attraction and seduction community.
By following his step-by-step system on how to find and keep the woman of your dreams, you're almost guaranteed success. But just like any other program, you'll need to put in the effort to get the most out of it. If you're willing to do that, then you're ready for The Girlfriend Activation System.