Summary
The Tao Of Badass has been creating a lot of buzz online. The author of the book, Joshua Pellicer, has a background in NLP (Neuro-linguistic programming) and focuses on psychology-based examples to explain his "baddass" theory of attraction. The ebook covers many of the main points in the attraction community including a large section devoted to creating deeper bonds and emotional connections. There's also helpful guidance on how to avoid the friend zone. He seems to be an intelligent guy and explains his principles in simple and effective ways. The main objective is that you learn the bad boy formula of attracting and dating hotter women.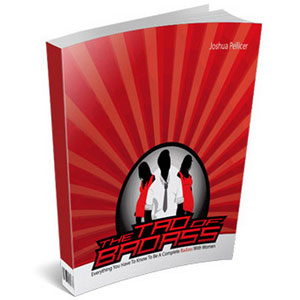 Total Score

71 / 100

Overall Presentation

10 / 10

Effectiveness

17 / 20

Practicability

14 / 20

Innovativeness

9 / 20

Value For Money

14 / 20

Other Score

7 / 10
Product Details

Expert: Joshua Pellicer
Level: Beginner
Format: E-Book, MP3 Download (interviews), Online Video
Price: $67
Where To Buy: thetaoofbadass.com
Guarantee: ​60-day money back
Who This Product Is For
This book is geared towards the guy wanting to improve his overall game. You'll find cut-and-paste examples of what to say, but the book focuses more on why women are attracted to certain male characteristics and then provides examples of how to apply them in your dating life. If you're confused about female behavior, and you want to learn how to trigger attraction by using "bad ass" communication and body language, then this book will give you some important insights.
What's Included
THE TAO OF BADASS (E-BOOK)
The Friend Zone
Monogamy vs Polygamy
Breaking Up Like A Man
Never Get Cheated On
BONUS CONTENT
Interviews w/ Dating Instructors (MP3s)
Body Language Videos (Member's Area)
Editor Review
The thing about the Tao Of Badass is that it's not all that different from what many of the other experts are teaching. But it's how it's presented and organized that make it somewhat unique. It's obvious that the author favors psychological theory over practical examples, so not everyone will like the style of the book. Some parts of the book could have been explained with more concrete examples of what to say. So what you end up with is the bigger picture of being more attractive without relying too much on other people's routines or scripts.
The Tao Of Badass emphasizes a natural conservation style mixed with humor and banter. Some of the opener script (pre-planned things to say) examples are similar to other systems of attraction, but it's taught from a refreshing new perspective. If you're a new student, then there's plenty enough included in this guide to get you results–assuming you actually do what he says.
The book covers the different phases of dating, from the first conversation, to the first date, to sex, and to relationships. You'll first learn how attraction really works and how you can use psychological "tricks" to make women like you more. There's a great section on dominant body language and how to appear more masculine without having to stand up straight as a board. There's also a solid section on gender roles and how to convey a more masculine energy.
Then there's the rapport section which really delves deep into conversation strategies, such as how to build an emotional connection so that the girl lets her guard down. There's also examples of various NLP techniques and how they relate to attraction. If you're new to NLP (Neural Linguistic Programming), then this book will give you a strong foundation along with a few simple NLP techniques that can have a dramatic effect on rapport building and seduction.
Many of the techniques will be especially helpful if girls think of you as the "nice guy." It's well-known within the pickup community that women use tests to determine whether or not you'd make a good boyfriend or lover. Joshua has done a good job articulating the most common tests and how to respond to them without being a doormat or arrogant jerk.
The last sections delves into the seduction and relationship phases. The section on seduction will show you how to use what you've already learned in the previous sections to make girls want to sleep with you. And the last section will teach you how to better manage any relationship without losing your badass edge.
Conclusion
All in all, this book covers a lot of ideas with a strong focus on psychological theory and some good practical examples to get you started right away. If you want the crash course on how to start new relationships by creating deep and meaningful conversations, while also conveying a bad boy image, then you'll appreciate the advice in The Tao Of Badass.