Summary
Double Your Dating is one of the most successful dating advice ebooks ever written. I remember the first time I did a Google search for "dating tips" while sitting at my desk at my old office job. After finding on the
DoubleYourDating.com
home page, I signed up for the free newsletter and purchased his $19.95 "Double Your Dating" ebook (the price has since been dropped to $14.95). After printing out the ebook on my office printer, I went straight home and read the whole thing that night. To say the book has had a profound impact on my life would be an understatement. One thing led to another and before I knew it, I was getting more dates and had literally doubled my dating.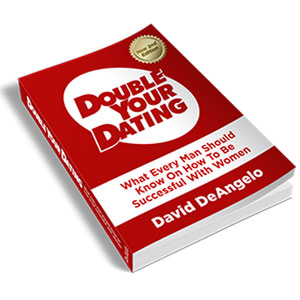 Total Score

88 / 100

Overall Presentation

10 / 10

Effectiveness

10 / 20

Practicability

17 / 20

Innovativeness

14 / 20

Value For Money

20 / 20

Other Score

10 / 10
Product Details

Expert: David DeAngelo
Level: Beginner
Format: E-Book
Price: $14.95
Where To Buy: doubleyourdating.com
Guarantee: ​7-day return policy (you will not be charged until 7 days after purchase)
Who This Product Is For
If you're just getting started in the dating advice community, and you're not sure which product to start off with, then this Double Your Dating review of David DeAngelo ebook is a great choice. Since the ebook was first released in 2001, DeAngelo has created over a dozen other high-quality products. His advice is down-to-earth compared to the pickup artists.
He's most known for his Cocky Comedy style of attraction, but I found his "inner game" programs to be especially effective in the long-run. More advanced students will want to check out his On Being A Man and Deep Inner Game programs.
If you're looking for specific "outer game" skills, then you might want to try his Approaching Women or Body Language courses. That said, if you want a solid introduction to all his main ideas and techniques, then Double Your Dating is a great starting point.
Double Your Dating (Table Of Contents)
PART 1: HOW TO THINK ABOUT SUCCESS WITH WOMEN
Chapter 1: Women Don't Make Sense
Chapter 2: How I Discovered What Works With Women
​PART 2: HOW TO COMMUNICATE WITH WOMEN
​Chapter 3: How To Develop A Personality That Is Irresistible To Women
​Chapter 4: How To Use Communication And Humor To Attract Women
​Chapter 5: Looks and Body Language
​PART 3: EXACTLY WHAT, WHEN, AND HOW
Chapter 6: The Basics Of Style and Class, Plus More On How To Fascinate Women
Chapter 7: Where and How To Meet Women
​Chapter 8: Getting Physical
Chapter 9: Keeping Her Attracted To You, Or "How To Have a Long Term Relationship"
Bonus Items
Bridges (E-Book)
Sex Secrets (E-Book)
The 8 Personality Types that Naturally Attract Women (E-Book)
Double Your Dating Review
Double Your Dating is one of the original ebooks to give rise to the online seduction community. Although it's become somewhat outdated compared to some of the newer products on the market today, Double Your Dating remains a true classic. David DeAngelo is one of the true pioneers in the self-help niche for men. What I like most about his products is his mature approach to teaching dating advice. It's not just about picking up chicks. When you study his products, you become a better person.
For the Beginner
Double Your Dating was written with the beginner in mind. The ebook teaches you about female psychology and why women are attracted to certain types of men. You'll learn how to flirt with women in bars and clubs. You'll also learn why women test you, and how to respond to their tests. The writing style is clear and concise with easy to understand situations and word-for-word examples of things you can say to spark attraction. Some of the techniques might seem counter-intuitive to the beginner student, but as DeAngelo likes to say, "Attraction isn't a choice."
David DeAngelo's Methods
To help facilitate the learning process, you're given examples of what to say while talking to women. Many of his methods taught in this friendly-beginner guide focus on how to be funny and cocky at the same time. This is an especially useful tool for curing the "nice guy" syndrome. It also works great for breaking the ice and sparking that initial attraction.
The Inner Game
One of the more important skills in dating and attraction is the inner game. David DeAngelo is one of the best coaches to help develop your confidence and self-esteem. You'll learn how successful men think and why so many guys fail to reach their goals. The idea here is that by working on yourself first, you'll naturally become more attractive to women, without relying so much on tricks and scripts.
Conclusion
If I had to make a list of the must-have dating products for the beginning student, then Double Your Dating would definitely be one of them. You'll first want to sign up for his free newsletter which has a ton of free tips and techniques.
David DeAngelo takes everything he's learned from only the best dating coaches, and he summarizes all the best techniques, strategies, and mindsets required to take any guy's skill to the next level.
Everybody can learn something from him, regardless of your current success with women and dating. Sign up for his newsletter at the link below or read other David DeAngelo product reviews.