Summary
The Dating Black Book was the first dating advice book I bought from Carlos Xuma. It's what I call an all-in-one dating guide. Most people would consider it a beginner product, but it's actually quite comprehensive covering the dating world from the inside out. It includes all the important beliefs and strategies of the pickup community, both the inner game and outer game. I'm holding the physical copy in my hands right now--a whopping 470 pages of dating advice, psychology, philosophy, and seduction. If I had to choose only one book giving the best bang for your dollar, then I'd choose this one. Find out why in the review below.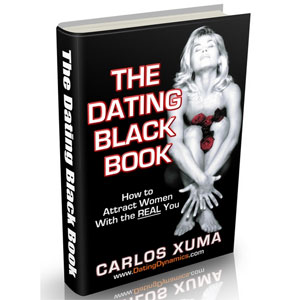 Total Score

83 / 100

Overall Presentation

9 / 10

Effectiveness

20 / 20

Practicability

19 / 20

Innovativeness

7 / 20

Value For Money

19 / 20

Other Score

8 / 10
Who This Product Is For
If you want a general overview of all the main skills involved in dating and relationships, then this book is for you. Carlos Xuma is probably the hardest working guy in the business. His Alpha Man Conversation & Persuasion and Power Social Skills products are two of the best conversation courses I've come across (if you're serious about improving your long-term success with dating and relationships, then you'll definitely want to check those out). The Dating Black Book isn't all that innovative–most of the advice has already been taught by other experts in one form or another. But what makes it a good option for the beginner is that it filters out all the bullshit and includes only the good stuff. The content is neatly organized with a detailed table of contents allowing for quick access to the areas you want to improve on. Almost every student of pickup will get something out of this book, but advanced students would probably do better with one of Xuma's advanced video programs.
Top Carlos Xuma dating advice reviews:
What's Included
The Dating Black Book (E-Book)
The Dating Black Book (MP3 Audio Book)
Transitions – Stepping Stones to Success (Bonus E-Book)
Dating Secret Q&A (Bonus E-Book)
Dating Black Book (Table of Contents)
​Preface: The Scorpion And The Frog
Part 1 – Getting Started: Understanding Relationships
Part 2 – Internal Game: Get Your Game Together!
Part 3 – External Game
Part 4 – The Dating Continuum
Part 5 – Kino or Kinesthesis: How And When To Use Your Touch
Part 6 – Basic Psychological Principles
Part 7 – Male-Female Communications
Part 8 – What Women Really Want
Part 9 – Dating Dysfunctions
Part 10 – Sex
Closing
Appendices
The Dating Black Book Review
The Dating Black Book teaches you everything you need to know about how to attract women with the REAL you. Carlos Xuma provides a solid foundation of communication skills and how it relates to the psychology of attraction. Word-for-word conversation examples make the techniques easy to implement. It also teaches you the more important aspects of the game such as confidence and motivation. Because of all the topics included, you'll want to revisit the book often.
Even after five years of buying this book, I still consider it one of my favorite go-to guides in the dating-advice niche. It's not that The Dating Black Book is all that different from other products. But I tend to click with his philosophy of dating and attraction. It's also very well-written and has a philosophical element that you usually don't find.
The 10 main sections of the book
The Dating Black Book is divided into ten main sections. The first section, "Understanding Relationships," gives you the foundation of attraction and how it really works. The author asks you to determine your goals: What do you want to get out of this book? If you're serious about making this book work for you, then you have to be willing to put in the effort. You'll also learn about common relationship myths and why most guys will never be successful with women and dating.
The next section covers what Carlos calls the "Internal Game." It goes over the common traits that kill attraction such as clingy/needy behavior, trying too hard, bragging/loud mouthing, and insensitivity, and gives you strategies on how to fix these behaviors.
After the basics of the inner game, you learn the outer game, or "External Game." Topics include image, fashion, appearance, body language, how you present yourself, your car, and your home. Men are not renowned for their attention to detail. For most guys, this section will be very important.
One of the more interesting sections is "Dating Dysfunction." Every guy who's been in a relationship will relate to the examples he provides. There are many traps you can fall into with women. Carlos gives you tools to recognize, handle, or avoid negative situations altogether.
Understanding women moods
Another takeaway for me was that a fundamental part of understanding women is understanding their moods. It's important to recognize when not to answer a woman's questions. Women aren't always looking for an answer when they ask you a question. More often than not, she's asking you something else–maybe she's testing you. The rebuttal examples he provided as "calming tactics" are humorous and effective. They provide an easy defense against arguments. Another takeaway for me was his "Control Principle" which states that who the person who loves the least controls the relationship.
Throughout each chapter there are scripts of how "LoserBoy" thinks: See, I told you she wouldn't give me her phone number. Why did I even try? The examples he provided throughout the book will take the theory of what's being taught and help you better understand how to apply it in your own life.
Conclusion
There's no way I can cover all the topics included in The Dating Black Book (the section on "Basic Psychological Principles" by itself could be sold as an ebook). But if you want the crash course of the most important skills in meeting, attracting, and dating the woman of your dreams, without having to change yourself too much, then do yourself a favor and buy this book. (And if you're looking for a more advanced product, then I recommend looking into his high-end alpha male and conversation training courses that go far beyond what most pickup artists are teaching).