Summary
On Being A Man
is an inner game program that teaches you how to become the kind of man who naturally attracts women. It's a culmination of years of study by
David DeAngelo
and his
Double Your Dating
line of products. In this program, you'll learn how to unlock your full potential in the areas of dating and personal power. The aim is to teach you exactly what causes a man to feel that masculine energy that women find irresistible. And then it provides you with a step-by-step system of how to apply the techniques, strategies, and mindsets in your own life.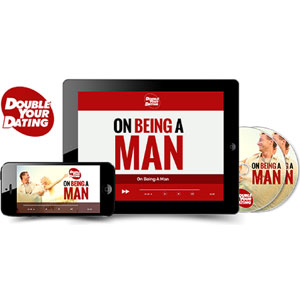 Total Score

92 / 100

Overall Presentation

10 / 10

Effectiveness

20 / 20

Practicability

15 / 20

Innovativeness

19 / 20

Value For Money

18 / 20

Other Score

10 / 10
Product Details

Expert: David DeAngelo
Level: Intermediate
Format: Online Video, DVD
Price: $149.85 or 5 payments of $37 ($3.99 extra for DVDs)
Where To Buy: doubleyourdating.com/catalog-onbeingaman/
Guarantee: 30-day return policy (you will not be charged until 30 days after purchase)
Who This Product Is For
Can you imagine how it would feel to let go of all your insecurities? On Being A Man delves into the psychology of what it means to be a man. This product was one of the first products released in the dating niche to stray away from the "pick up artist" mentality. It's a "heavy" product that will require substantial effort on your part. But it's worth the effort. Note that this program isn't about chasing women. But rather, it's about self-actualization and evicting your inner wuss. It truly can transform your life.
ON BEING A MAN
7+ hours of video (member's area)
4 DVDs
7 audio CDs (optional)
Accompanying workbook (teaching slides & powerful support material)
Detailed track listing (quick access to find & re-watch favorite chapters)
Tools and advice (immediate access)
Free 1-Month Subscription to "Interviews With Dating Gurus" interview series
Editor Review
On Being A Man is available online as a video streaming product. It's also available as a 4-DVD set. The program was shot at one of DeAngelo's live seminars back in 2004. In total there is over 7+ hours of video content presented by David DeAngelo and his guest speaker Dr. Paul. The production value is top-notch, even better than his previous seminars.
David is a guy you can trust. The core skills you'll learn from this program will prove to you that you can win over any woman by being the REAL you. This product isn't about teaching you how to meet women, or how to use routines or memorized scripts to get more dates. It's about working through your own issues that are preventing you achieving success in women and dating. In other words, it's about YOU.
When most guys first start learning the game, they want an instant fix. They want to know "tricks" they can use to get more women to sleep with them. Here's the thing: There is no shortcut. But there is a clear path to success. And it all starts with your inner game.
Some of the topics covered in this program might make you feel uncomfortable. That's a good thing. It means you're reflecting on yourself and your own emotional junk. But if you can stick with the program, and if you're dedicated to improving yourself, then you can trust this product will help you reach the next level in your life.
The first DVD kicks off with David DeAngelo's first slideshow. The topic: "The boy must die." It's one of the most important themes taught in the program. Before you can become a real man, you have to let go of the boy inside. Whether we want to admit it or not, we all have childish behaviors that are holding us back in life. Some of us have addictions, whether it be drugs or alcohol, video games or internet porn, or some other emotional tendency that we struggle to overcome. Here's the promise: If you can overcome your own personal issues, whether it be physical, emotional, or financial, then success with women and dating will take care of itself.
In the second DVD, you'll learn about the importance of your life purpose and why it's imperative to stay on track. You'll learn about leadership and why it's so important in any relationship, whether with women, friends, or co-workers. You'll also learn about establishing your values in life. The clearer you define them, the more attractive you'll become.
The third DVD offers more inner game as well as outer game techniques. These include conversation strategies and social skills in general. DeAngelo offers suggestions of how to use his Cocky Comedy approach and how it can be applied to overcoming your own insecurities. Other topics include how to become more authentic and how to be more honest with yourself. So many guys get this wrong. Instead of being genuine around women, they try to become what they think the girl wants them to be, which only backfires.
The fourth DVD features Dr. Paul and his psychological process of becoming a mature, integrated man. His message: Change requires courage. It's not easy to see how our self-limiting beliefs are controlling our lives. His "unification theory" brings the best of different schools of self-help and psychology. He teaches you how master your anxiety, and how to transform your anger into assertiveness. He also talks about trust and how it relates to confidence.
As you can see, there are many topics covered in this program, and I've only just touched the surface. Many of the topics are also covered in the Man Transformation program also by David DeAngelo, which is his most comprehensive (and expensive) product. You can think of On Being A Man as a mini course to that program. If you've already purchased Man Transformation, then you'll already be familiar with many of the topics covered on On Being A Man.
Conclusion
How do you define what it means to be a man? What qualities do they have? What happens to you if you grow up without developing these qualities? Questions like these make you reflect about your life and where it's headed. David DeAngelo has gone a different direction than almost every other dating coach in the seduction community. He focuses on the more important things that will make you a better person. On Being A Man, along with Man Transformation–his most advanced high-end product, have made a lasting impression on the way I think about women and success. If you're looking for a course that shows you the true secrets of the alpha man, then look no further than David DeAngelo.