Summary
One of the more popular product categories in dating advice for men is texting and sexting. Recent statistics show that over 80% of women prefer texting to talking on the phone. Up for review is the newest "how to text" guide,
Text That Girl
by dating skill expert
Race DePriest
. It's a detailed ebook providing a step-by-step blueprint on how to use text messaging with the goal of meeting the girl in person. This how-to text girls product comprises the good and the bad, as well as comparisons to other texting products.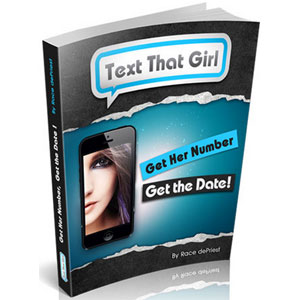 Total Score

89 / 100

Overall Presentation

9 / 10

Effectiveness

18 / 20

Practicability

18 / 20

Innovativeness

18 / 20

Value For Money

18 / 20

Other Score

8 / 10
Who This Product Is For
Text That Girl is for any guy who wants to add playfulness to their text messages and wants to learn how to text girls. The book provides word-for-word examples of how to attract girls by using text messages in fun and humorous ways. Although there is a section on how to get a woman's phone number, it's not covered in as much detail.
TEXT THAT GIRL (TABLE OF CONTENTS)
First Text Quickstart
Techniques and Tactics Quickstart
The Flake-A-Saurus Rex Quickstart
How To Get Her Number
How to Ask Her Out
Calling Her On The Phone
Text That Girl Review
Text That Girl was created by the dating skill expert Race DePriest, the same guy who created Window Shopping For Women. Race is best known for his texting game, and more specifically, how to understand texting from a woman's perspective. Text That Girl is designed to help you master the initial game of attraction. In addition to learning how to text girls, you'll also learn how to talk to girls on the phone and how to set up the first date.
The ebook comprises six sections. The book kicks off with the common mistakes that most guys make when texting a girl. Race provides examples of both good and bad text messages and breaks them down in terms of female psychology. Unless you've already studied similar products, you've probably made at least a few of these mistakes.
The next topic is the frequency. It's not only important to know when to text the girl, but just as importantly, how often to text her. The advice here on frequency and timing is spot on and very specific. For many guys, this section alone will improve your text game significantly.
Later sections of the book delve deeper into the logistics of techniques and tactics. Teasing is a big part of Race's testing strategy. It's all about conveying a fun, and even silly personality. The goal is to keep the girl anticipating your next text message by using wording and emoticons to create emotional impact. The more you can get her smiling, the more you'll stand out from other guys.
Obviously you don't want to copy all the examples word-for-word (this is usually done by beginners who rely too much on canned routines). Remember, the goal is to meet the girl in person. So if the examples aren't congruent with your personality type, then you'll need to either tweak them or just focus on the examples that suit your personality. Either way, there are dozens of examples provided for each step along the way.
The second half of the books delve into specific action steps. You'll learn how to get her phone number, how to ask her out, and when to call her, and how to her on the phone. These later sections complement the previous sections, and it's the combination of all these different skills that will make your text messages the most powerful.
Conclusion
Text That Girl is a winning formula and is one of the easiest how to text girl's systems to apply. For an entry product at only $47, it packs a great deal of practical advice that anyone can use regardless of their dating skill level. If you're looking for a texting guide filled with great insights and word-for-word examples on how to spark attraction and get more dates, then you won't be disappointed.