Summary
David DeAngelo
launched his first
Double Your Dating
ebook back in 2001. Since getting married, he's no longer creating new dating products, but he's still one of my favorite go-to guys for learning the inner game.
Advanced Dating Techniques
is one of his latest and most advanced product releases.  In this comprehensive program of over 18+ hours of techniques, strategies, and ideas, you'll learn how to attract more women, how to get more dates, and how to be a more skillful lover. The product format is available as an online video course or as a DVD- or CD-set shipped to you in the mail.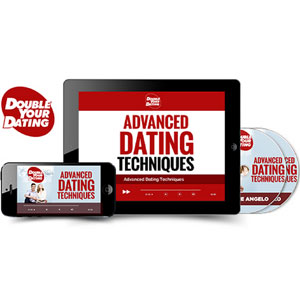 Total Score

90 / 100

Overall Presentation

10 / 10

Effectiveness

20 / 20

Practicability

16 / 20

Innovativeness

17 / 20

Value For Money

17 / 20

Other Score

10 / 10
Who This Product Is For
If you've already learned some basic dating skills, and you'd like to take your game to a whole new level, then this Advanced Dating Techniques review and program is for you. Even though it's marketed as an "advanced" program, beginners will get just as much out of this course. It takes all the skills and theory from the seduction community and delves deep into each specific topic.
Topics include inner game (confidence, self-esteem), outer game (body language, style, image), online dating, conversation skills, sexual skills, and everything in between. Compared to some of his other products (read our reviews of Double Your Dating, Approaching Women, and 77 Laws Of Success With Women & Dating to name a few), the Advanced Dating Techniques was created for those who want to truly master the game by adopting the mindset of the "natural."
What's Included
Advanced Dating Techniques (18+ hours of video)
Detailed Track Listing (quick access to find & re-watch favorite chapters)
18 Audio CDs / 9 DVDs (optional)
Free 1-Month Subscription to "Interviews With Dating Gurus" interview series
Advanced Dating Techniques Review
This advanced dating series was recorded at one of DeAngelo's live seminars and includes various guests.  The DVD set includes 11 discs of dating strategies, tactics, and mindset, and an additional 6 hours of video training from 11 other dating experts and pickup artists. The entire program is available online which is accessible through all devices including mobile and tablet. Similar to his other products, the production value is top-notch.
The first 6 modules are presented by DeAngelo in his typical teaching style. He presents his views on women and dating by combining an evolutionary and psychological-based approach. Each video builds upon the last. Think of it as an all-encompassing educational program of DeAngelo's more advanced techniques and strategies on how to attract any woman.
Guest speaker Hypnotica
David DeAngelo attributes much of his inner game success to Hypnotica. If you've never learned from Hypnotica before, then I suggest you take a look at his Collection Of Confidence program, which is one of the most powerful self-hypnosis products ever released in the dating-advice-for-men niche. The Advanced Dating Techniques program also includes Hypnotica as a guest speaker. He shares his success story and provides a crash course on his most effective techniques for developing a rock-solid mindset.
Hypnotica is just one of 11 guests included in this program. Since each expert is a specialist in their own field, and since each speaker goes in-depth on their own successful strategies for developing dating and sexual skills, you're literally getting one of the most comprehensive dating-advice courses ever released. Other guest speakers include Neil Strauss (aka Style from The Game), Lance, Doc, Zan, Leil Lowndes, Geoffrey Miller, Ben Orian, Dave Riker, Rick H, and Brent Smith.
Overcome obstacles
The aim of the program is to help any guy overcome any obstacle in the areas of women, dating, social skills, confidence, and sex. You'll learn how to overcome fears that are preventing you from having the success that you deserve. You'll learn alpha male characteristics and how to develop a strong masculine presence that will make women think of you. It'll also teach you how to create powerful sexual tension that will make women hot for you. Other topics include body language, how to approach women, how to talk to women, how to get her phone number, how to set up a date, how to escalate sexually, and how to maintain personal power in any relationship.
Try the product for free
In terms of value for your buck, this is a high-end product priced higher than most dating products. But DeAngelo is so confident in his product that you can literally try out the product for free for 30 days without being charged. If you still don't think it's worth the price, then you can simply cancel any time within 30 days of your purchase and you won't be charged. As an additional free bonus, you'll also be getting a free month subscription to the Interviews With Dating Gurus series.
Conclusion
If I had to choose only one product to recommend that covered ALL the advanced techniques, strategies, and theories of attraction, then Advanced Dating Techniques would be it. If you are serious about taking your dating success to the level of mastery, then this program will literally change your life.
After studying this program for this Advanced Dating Techniques review, I found it next to impossible to not have a paradigm shift. But because of the sheer volume of content included, this isn't one of those products that you can get through over the weekend. To get the most out of it, I recommend you view the entire video series at least 2 or 3 times. Not every guy will be willing to do that, but for the serious student, this is one of the very best resources.