Summary
I've studied many books and online courses on the subject of women and attraction.  There are many good products out there, and then there are all the imitators.
The 4 Elements Of Game
, although not as popular as other guides, is definitely one of the better and more innovative guides. It fills a much needed niche by giving you honest advice that is both practical and easy to implement.
Rob Judge
and Zack Bauer, the authors of the book, focus on the four most important key areas. The book is authentic, easy to relate to, and offers some real gems of wisdom that students of all levels will benefit from.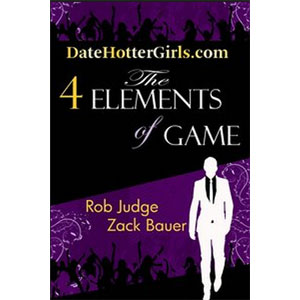 Total Score

86 / 100

Overall Presentation

9 / 10

Effectiveness

9 / 20

Practicability

19 / 20

Innovativeness

20 / 20

Value For Money

20 / 20

Other Score

9 / 10
Product Details

Expert: Rob Judge, Zack Bauer
Level: Beginner, Intermediate
Format: E-Book Download (PDF)
Price: $47.97
Where To Buy: ebook.datehottergirls.com
Guarantee: ​60-day money back
Who This Product Is For
If you want no-bullshit advice that actually works, then this The 4 Elements Of Game review is for you. The book differentiates itself from other "pickup" guides by focusing only on the critical elements of the REAL game. The authors are not in this for egotistic reasons. Instead of bragging about how awesome they are and how easy they attract a girl, they come across as down-to-earth people just like you and me. It's easy to relate to their stories and the hardships encountered along the way. They've even included some handy conversation templates that really simplify the attraction game.
If you want to learn a natural game on how to attract women from real experts, then you need to read this book. And if you're confused about all the products on the market, I'll make it simple for you: Buy this book! It'll give you the lasting results you want without all the unnecessary PUA jargon.
Follow the links below for more dating advice products by Rob Judge.
Table of Content
PART I: INTRODUCTION TO YOUR NEW SUCCESS WITH WOMEN
Replacing Your Old Mindsets
Understanding How Female Attraction Works
How The New Game Is Played
PART II: THE DRIVE ELEMENT
Why Putting "The Moves" On Women Is Sexy
Smashing Through What' s Keeping You From Success
The Reality Of Getting Sexual With Women
How To Instantly Generate Confidence You Need
How To Keep Your Drive Sexy
PART III: THE INSPIRATION ELEMENT
Tap Into Your Inspiration
How to Converse With Women
How To structure Conservation So
All You Need To Know To
The Purpose Of Flirty Conservations
PART IV: THE CONNECTION ELEMENT
A Fresh Look At Connecting
The Biggest Mistakes Most Guys
Using Rapport To Transition
How Stories From Your Life
Guide To Making Genuine
Keeping Connections Focus And Effective
PART V: THE MECHANICS ELEMENTS
How To Smoothly Move
Using Time-Dependent Female
How To Approach Hot Women Successfully
Knowing What To Do
How To Setup A Date
How To Get Physical Fast
A Few Words About Looks
Final Motivation For Success
PART VI: AFTERWORLD – LET BALANCE GUIDE YOUR PROGRESS
The 4 Elements of Game Review
Every guy is different.  This fact is sometimes overlooked in the seduction community. We each have our own strong points and weak points. Some of us struggle with shyness or self-esteem issues. Some of us are short or overweight. So when we learn a new technique that works, we tend to overemphasize that one technique over all the others, which in turn throws off our entire game.
When reading and doing the research for this The 4 Elements Of Game review I found a recurring theme and that is finding a balance between the 4 elements. For example, you can be great in one area but you need a lot of work in a different area.  This idea is often taught in advanced boot camps, but it's nice to finally see it summarized so elegantly in an affordable book.
The 5 parts of elements of the game
The book comprises 5 parts. The first part is an introduction to the psychology of attraction. Part 1 in itself essentially summarizes the whole "game" and encapsulates the entire theory. This sets the tone for the following 4 parts which are devoted to the "4 elements": Drive, Inspiration, Connection, and Mechanics.
An important component often overlooked by beginner students is drive.  Without the drive to succeed, nothing else really matters.  Sure, you can learn some cool tricks that will get you a hot babe's phone number, but without drive, you'll only be advanced to a certain level.
The advanced students will always evolve beyond the "pickup artist", often referred to as the "natural". Throughout your journey, mistakes will be make. The important thing is to learn from them, or in this case, you can just learn from the authors' mistakes since they've included their own candid examples of how they've screwed up on their own journeys. If you've ever experimented with different techniques, then you'll relate to their examples.
Improve your communication skills
One of the main areas covered in the book is how to communicate with women in a more attractive way.  Instead of talking about yourself, talk about your life. If your conversation skills need improvement, then the 'conversation templates' will be especially helpful (they do you a huge favor by piecing together the simple yet effective communication styles in templates that any guy can use immediately). It works both on both initiating conversation (approaching women) and responding to whatever the woman throws at you (dealing with her tests and keeping the conversation flowing).
It's obvious that the author has a lot of experience with how to attract women. Even though the book is somewhat targeted for the beginner, I suspect that many so-called "advanced" pickup artists would learn a lot from this book. You might $47.95 is too pricey for a downloadable eBook, but in regards to value and quality of content, it's a fair price.
Conclusion
If you are serious about improving your success with women and how to attract women better. Then The 4 Elements Of Game is a must-read. While other methods tend to confuse the reader with excessive details, this book focusing on only what delivers actual results.  As soon as you start reading the book, you can begin to apply it in your life. This book is the real deal, when it comes to how to attract girls better. And it works. You won't regret it.