Summary
The Girlfriend Training Program is a complete system on how to "train" your girlfriend so that she's constantly thinking about you, and always wanting more of you.  In other words, she won't be interested in any other guy except YOU. The thing that most guys don't understand is that women are training men all the time. We live in a culture where men have become so feminized that we've forgotten what it means to "be the man." And women are just as frustrated about this as us men.  This program will teach you how to remove the drama in your relationship so that you experience better sex and more control in your relationships.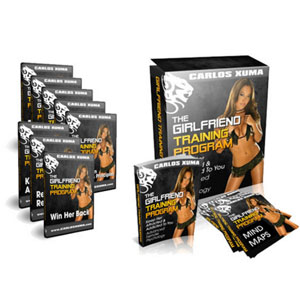 Total Score

88 / 100

Overall Presentation

10 / 10

Effectiveness

17 / 20

Practicability

15 / 20

Innovativeness

19 / 20

Value For Money

19 / 20

Other Score

8 / 10
Product Details

Expert: Carlos Xuma
Level: Intermediate
Format: Online Video Course
Price: $97
Guarantee: ​365-day return policy
Who This Product Is For
If your relationship with your girlfriend is starting to fall apart, then you have two choices. You can either end it for good. Or you can fix it. Either way, The Girlfriend Training Program can show you how. But what if you currently don't have a girlfriend?  In that case, I'd still recommend this product. In fact, if you're currently seeking to start a new relationship, then it's even more important that you invest in this program. Why? Because it's imperative to start each relationship on the right foot. Furthermore, this program will teach you how to select women wisely so that you can avoid all the future drama from every happening in the first place.
Follow the link below for more Carlos Xuma product reviews.
What's Included
The Girlfriend Training Program (9+ hours of video material)
The Girlfriend Training Program Reference E-Book
Guide To Understanding Women – And Female Psychology
How to choose women wisely (David Shade)
How To Keep Your Girlfriend Sexually Entranced (David Van Arrick)
Forever Attraction (Adam Gilad)
Keep Your Woman Faithful (Marni Kinrys)
How To Keep Your Woman Hopelessly Attracted To You (Scot McKay)
How To Build A Better Girlfriend (Mark Cunningham)
Zero Drama Dating (Lance Mason)
How To Keep Your Girlfriend Sexually Entranced (Alex Allman)
The Girlfriend Training Program Review
The Girlfriend Training Program is one of Carlos Xuma's more popular products. There are many dating-advice products that teach you how to meet and attract women. But there aren't many teaching you how to manage your woman.
I know what some of you might be thinking. A girlfriend "training" program? Is this some kind of misogynistic slave training system where I can manipulate and control my girlfriend to do whatever I want? Nothing could be further from the truth.  What most guys don't get is that most women want you to take control. They need to trust that you can lead them. They are so sick of guys not understanding what they really want. Trust me, your girlfriend will thank you for it. But you need to know what you're doing.
If you've studied some of Carlos's other products, then you already know that he's not just into pickup. He teaches what he calls "the alpha lifestyle."  This program overlaps with some of his other products, but it's taught from a different perspective–a different way of thinking about women and attraction.
Each of the videos can be streamed or downloaded inside the members section. With over 9+ hours of video material, there's a lot to take in. And yet, the program avoids most of the theory found in other products. What you end up with is an easy-to-follow system packed with "done for you" examples.
In The Girlfriend Training Program, you'll learn how to take ANY relationship you're in right now, even if she's just your friend, and turn her into your loyal girlfriend. You'll learn what causes a woman to lose interest in a man, and how to reverse it before it's too late.
You can't "punish" a woman into liking you. But you can trigger attraction by your own actions and behaviors. It's all about you, how you communicate with her, and how you deal with her tests. You'll also learn to identify the "relationship killers" before they can become a problem.
There's additional value in the form of bonus audio, video, and PDF files. David Shade and Alex Allman from Revolutionary Sex gives you some good pointers on how to keep the passion alive in the bedroom. Mark Cunnhingham's Build A Better Girlfriend introduces hypnotic suggestions. Scott McKay gives more practical techniques for being more attractive. There are a handful of other dating experts too, each one giving you tips on how to keep her interested in you, even if you've been together for a long time.
Conclusion
Carlos Xuma has done a fine job with this program.  It's honest advice and it works. It's quite an in-depth course to take in, but it's presented in a neatly organized way that is both interesting and easy to apply. If you're experiencing difficulties with women, dating, attraction, or just relationships in general, then you'll want to give this one a go.